Ride the Rainbow Universal Strap-On Harness
Ride the Rainbow Universal Strap-On Harness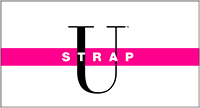 Add this colorful harness to your Pride collection or keep the rainbow theme going if you already have many rainbow or color-packed toys! This harness is for universal wear and is fully adjustable. Use the nylon straps and plastic buckles to tighten or loosen for a comfortable and secure fit that can change as much as you and your strapon dildos do! Each new dildo may offer more or less weight so you can adjust as is needed, and if you choose to share the harness with a partner, they can adjust for their sizing, too! The front of the harness has a triangular pad that has PU faux leather in front and soft velvet in back which not only pads your pelvis but provides soft, gently rubbing instead of chafing against your tender skin. The harness includes two different size silicone O-rings that will fit most strapon dildos. The straps attach to the strapon triangle in front and then wrap around each thigh so you can keep your derriere fully accessible for your partner to enjoy in between pegging and pounding!
Choose your desired strapon and make sure one of the silicone O-rings fit over the shaft. The O-ring should not slip behind the base of the dildo. Use the nickel-free, iron snaps to affix the compatible O-ring in place, then slide the dildo through the O-ring. Once the dildo and O-ring is securely in place, slide one leg and then the other through the harness. Use the buckles to tighten until the harness stays securely on and doesn't slip over your hips. Walk around and practice thrusting to see if the harness slips off or needs to readjust, and adjust again as needed. Then, grab your partner and some lube and sex toys! The rest of the scene is for you two to play with! Let them guide the strapon dildo inside so they're doing most of the work. Once they're comfortable with the size and feel of that dildo, you can start thrusting away and pounding them until they have had enough or want to switch with you!
To clean, spot clean with mild soap and warm water and rinse.
Measurements: Waist adjusts up to 56 inches circumference. Thigh straps adjust up to 36 inches in circumference. O-ring diameters: 1.25 inches, 1.5 inches.
Materials: PU leather, nylon, silicone, metal
Color: Rainbow
Note: Dildo sold separately.
Key Features:
Rainbow Harness: This brightly colored, nylon harness is a perfect addition to your Pride collection or other rainbow items!
Adjustable Straps: Use the plastic buckles to tighten or loosen the tension around the hips and thighs. Get a comfortable and secure fit each time!
Open Back Design: Peg your partner and still show off your booty! The straps go from the front of the waist to around each thigh so your bottom, rear entry and that lovely space between your thighs stays fully accessible!
Faux Leather Strapon Pad with Rings: The triangular pad that the dildo base presses against is made of PU faux leather and has a velvet back so it is soft against your skin. The harness comes with 2 different size O-rings that will fit most strapon dildos.
Brand: Strap U
Compare